Age of Regrets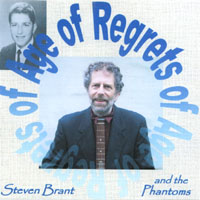 Here are some medium-fi tracks from our July 2002 CD, Age of Regrets, on Independent Records.  The real thing is available for purchase

cheap

inexpensively on line at CD Baby.
The Age of Regrets: Acoustic Music with Electric Instruments
These tracks are in Windows Media format (WMA).  We hope you'll like them… and then buy the CD, of course.  In the meantime, you may save these to your hard disk, but they remain all under our copyright: Copyright (C) and (P) 2001, 2002 by Steven Brant; all rights reserved.
Today's Phantasmic Tip:
The Regrets of Age are visible on Abe Lincoln's forehead. To prove it in this Age of Regrets, check out a couple of $5 bills. Now send those two Lincolns to
CD Baby
to get your own copy of Age of Regrets.
Side 1:

Regrets

of

Age

Side 2:

Age

of

Regrets

Baby Rock

(2.2MB)

: It's the new dance craze.  You see new parents doing it everywhere.  So keep rockin' — 'cause the moment you stop, the screaming begins!

(Click here for lyrics.)

Mild Thing (1.2MB): One consolation — The Troggs must have gotten older, too. (Click here for lyrics.)

Age of Regret (1.1MB) is our age…. (Click here for lyrics.)

Ground Zero

(1.9MB)

: We are all at Ground Zero, one way or another.  As the man said, Ich bin ein New Yorker.

(Click here for lyrics.)

Ellis Island (2.6MB): We can't say more about this place than John Sayles did in the opening scene of The Brother From Another Planet, but we tried anyway.  Steven started writing this on the ferry between Ellis Island and the Statue of Liberty. (Click here for lyrics.)
---