Mind the Gap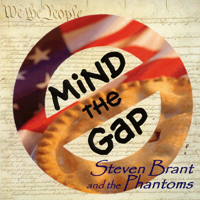 Here are some medium-fi tracks from our CD Mind the Gap on Independent Records.
Mind the Gap: Acoustic Music with Electric Instruments
If you like these songs, please buy the CD – higher quality, more songs, we get a few bucks for our work, and you're supporting independent music.  In the meantime, you may save these to your hard disk, but they remain all under our copyright: Copyright (C) and (P) 2002, 2003 by Steven Brant; all rights reserved.
Out of Their Mind

The Gap

I Want My Country Back

(1.5MB)

: We're patriots; we believe in the ideals of America.  So why are we letting the right wing rip it out from under us?

(Click here for lyrics.)

Colorado (2.3MB). Ruby, don't bring your guns to school. (Click here for lyrics.)

In the Middle

(1.0MB)

: To Anya, with love.

(Click here for lyrics.)

The Crossing (1.6MB): More lonely than a speeding locomotive. (Click here for lyrics.)
---